Recipe: Golden Milk Turmeric Rich Coconut Drink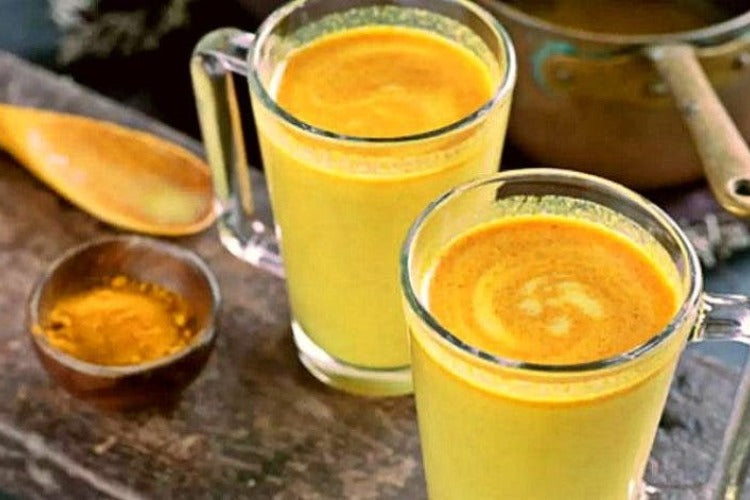 Simple recipes are always the easiest to repeat. And, lesser the ingredients, cleaner is the food you consume. If you are an advocate of clean eating like me, you 'll love this recipe for Golden Milk Turmeric Rich Coconut drink. Indulge yourself in this comforting drink because this one is gonna become your daily solution for getting deeper uninterrupted beautiful sleep.
    Ingredients:
Directions:
    Mix all ingredients in a bowl. Did you know that pepper enhances the absorption of turmeric in the body? So, if you are not using Teaveli Golden Milk in your recipe, make sure you add pepper separately. There is a reason why many recipes have come across continents from Asia to America without much change in the fundamentals. In this case, the combination of Turmeric and Pepper is a powerful fundamental combination that you cannot play around with. In addition to supporting the absorption of turmeric, pepper of course also helps in clearing your throat when you catch a cold. There is no denying that Golden milk is and always will remain a powerful comfort drink because of these crucial reasons.
    Once you are done with mixing the ingredients really well, pour the blend into a saucepan and bring it to boil. After this, reduce the flame and let it simmer for 5 minutes. At this point, it is very important that you keep stirring the mixture coz it has a tendency to stick to the bottom of the vessel and you don't want to miss out on any part of this nutritious drink. Take out the ginger from the drink before serving it. And yes, add that last spoon of honey to double the pleasure. Honey is not only a naturally healthy sweetener but also adds a twist of sweetness in contrast to the taste of pepper in the drink.
    You can also make this drink with normal cow's milk but it is really much more delicious when the cream of the coconut milk that is added blends well with the spices and the honey. Coming to the cream, did you know that applying milk cream to your lips before going to sleep, prevents lips from getting cracked. My mother used this trick on us since childhood. This was much before lip balms came into fashion. It's funny how we forget the basic home remedies in pursuit of commercialized solutions that are at the end derived from the very same fundamentals.
Now, this is a quick and easy drink to make and serve to family or to make for yourself. Drink it just before going to sleep so that the warm golden milk takes you to the land of deep sleep. Sleep like a 2-year-old baby with this comforting drink. It is so effective that not only does it help with improving sleep but it also helps you when you are suffering from an injury. Turmeric is the key to healing here. This drink helps digestion that avoids overnight stomach problems and leads to uninterrupted sleep.
    Share your experience with this and other recipes that you've tried with the Golden milk supplement.
CLICK HERE TO ORDER TEAVELI GOLDEN MILK POWDER
Did you know that Golden Milk Powder has known to be the comfort drink of choice as per ancient Chinese and Indian medicine? 
ORDER TEAVELI GOLDEN MILK POWDER NOW!!!!!
---